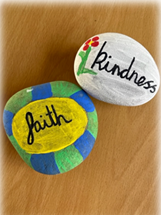 11 October 2023
Our 'Faith in Action' pupil led group meet regularly with Mrs Hall to explore their faith and 'live it out' through service and reflection. We hope to encourage everyone in our school community to do the same!
Make your own prayer stones!
Please join them by making your own prayer stones and writing your favourite school value on it. Then decorate with paint or other materials as you wish. When you have finished, ask an adult to take a photo of it and email it to: office@stursulasprimaryschool.co.uk with your name, year group and FAO Mrs Hall. We will then put them all on Facebook and share our creativity and values with the community!